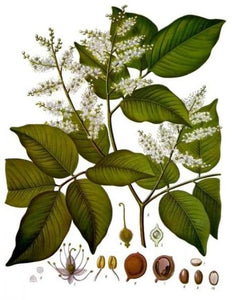 Copaiba Essential Oil
Scent'Serely Yours Health & Wellness Spa
Regular price $15.00 Sale
Description:
Copaiba, similar to Black Pepper, can help soothe anxious feelings and, when taken internally, supports a healthy immune and cardiovascular system.*
Copaiba essential oil is derived from the resin of the copaiba tree which can grow upwards of more than 100 feet and can be found in tropical South America. Copaiba oil is widely used in cosmetic products including soaps, creams, lotions, and perfumes. Since the 16th century, copaiba essential oil has been utilized in traditional health practices by the natives of north and northeastern Brazil. Similar to Black Pepper essential oil, Copaiba can help soothe anxious feelings and it can be applied to the skin to promote a clear, smooth complexion. Taken internally, Copaiba essential oil supports the health of the cardiovascular, immune, digestive, nervous, and respiratory systems.* Although Copaiba does not contain psychoactive cannabinoids, the main component caryophyllene may be neuroprotective and have cardiovascular and immune benefits.* It's also a powerful antioxidant that promotes immune health.*
Uses
Add 1 to 2 drops to water, juice, or tea to support the health of the cardiovascular, immune, digestive, nervous, and respiratory system.*
Provides antioxidant support when ingested.*
Take internally to help soothe and calm the nervous system.*
Apply topically combined with a carrier oil or a facial moisturizer to help keep skin clean and clear, and to help reduce the appearance of blemishes.
Directions for Use 
Diffusion:
Use three to four drops in the diffuser of choice.
Internal use:
Dilute one drop in 4 fl. oz. of liquid.
Topical use:

 
Dilute one to two drops with a carrier oil, then apply to desired area. See additional precautions below.
Primary Benefits
Supports the health of the cardiovascular, immune, digestive and respiratory systems*
Powerful antioxidant*
Helps calm, soothe, and support the nervous system*
Promotes clear, smooth skin and reduces the appearance of blemishes
Aromatic Description
 Spicy, woody
Collection Method
Steam distillation
Plant Part
Resin from Copaifera reticulata, officinalis, coriacea, and langsdorffii
Main Constituents
β-caryophyllene
*These statements have not been evaluated by the Food and Drug Administration. This product is not intended to diagnose, treat, cure, or prevent any disease.
Cautions
Possible skin sensitivity. Keep out of reach of children. If you are pregnant, nursing, or under a doctor's care, consult your physician. Avoid contact with eyes, inner ears, and sensitive areas.