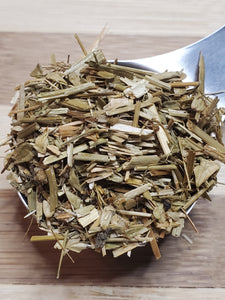 Shepherd's Purse Herb
Scent'Serely Yours Health & Wellness Spa
Regular price $10.00 Sale
COMMON NAME
Standardized:
BOTANICAL NAME
 Origin: Bulgaria
OVERVIEW
Organic Cut & Sifted 
Shepherd's Purse is used to treat diarrhea, treat and prevent duodenal ulcers. Stops internal and external bleeding, treats urinary problems, and as a wound remedy. It should be avoided during pregnancy, although it is often used during the last stages of labor to prevent bleeding problems.
PRECAUTIONS
Specific: No known precautions.
General: We recommend that you consult with a qualified healthcare practitioner before using herbal products, particularly if you are pregnant, nursing, or on any medications.
*This statement has not been evaluated by the Food and Drug Administration. This product is not intended to diagnose, treat, cure, or prevent any disease. For educational purposes only.