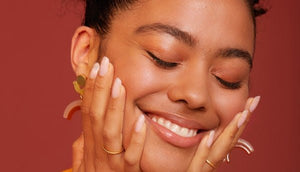 Queens Signature Facial
Scent'Serely Yours Health & Wellness Spa
Regular price $150.00 $125.00 Sale
Infused with probiotics & collagen
WHY PROBIOTICS & COLLAGEN?
Restore

skin's natural balance & radiance

Nourish

skin to improve hydration & smoothness

Soothe

skin to calm the look of irritation & inflammation
Collagen also is one of the key elements responsible for strengthening blood vessels and your skin's strength, smoothness and elasticity.
Over the years, collagen does begin to degrade, which leads your skin to develop wrinkles, a skin sag, and other issues. Because of these unfavorable aging related issues, collagen facial treatments have become hugely popular among the aging population.  
Collagen treatments
A collagen facial is a treatment designed to restore the depleted collage in your face and rejuvenate your skin. Ultimately, a collagen facial will slow down the aging process by replenishing your body's natural proteins through external applications.
In the beginning of your facial, you should have your skin cleaned thoroughly with a cleanser. Afterwards, your skin will be exfoliated, which entails using various scrubs to clean and unclog your skin. 
After your skin has been cleansed and exfoliated, the next step will be to massage your skin.
Receiving regular probiotics & collagen facials will lead to your skin having a more attractive and radiant glow.
WHY THE Queens Facial TREATMENT MAY BE PERFECT FOR YOU
Moisturize skin. One of the main benefits of collagen is more hydrated skin. Having hydrated skin is a major combatant against dry and aging skin. 
Reduce aging signs. Reduce the size of your pores and improve your skin's texture. Your skin will look younger with fewer fine lines and wrinkles. 
Reduce stress. By applying a collagen facial a few times each week, you can relax, pamper yourself, and enjoy the feeling of refreshed skin. 
Retard degradation of your natural collagen. By using a collagen facial, you will slow the degradation of your skin's existing collagen. In addition, you will minimize the damage caused by free radicals, which also helps protect your skin's existing collagen. 
This facial includes steam and extractions in combination with individually-customized mask & serums. 

SCHEDULE YOUR Queen FACIAL TREATMENT TODAY
(To ensure you receive your entire service time-Please arrive 15-20mins prior to your appointment for consultation & paperwork)
CANCELLATIONS 
Cancellations made within 7- 10 days will incur a 10% fee with a 90% credit applied to the service 
Cancellations made within 3 - 6 days will incur a 25% fee with a

 

75% credit applied to the service 
Cancellations made within 48 hours to the event will incur a 35% with 65% credit applied to the service 
Cancellation made day of you will incur 50% fee 

with 50% credit applied to the service 

NO CALL/SHOW subject  up to 100% of service being forfeited

NO REFUNDS, NO EXCHANGES, NO EXCEPTIONS
 *Please be advised If/when you are offered a discount code for your rebooking you must use it within the time frame given up to 30days or you lose your credit towards your service.