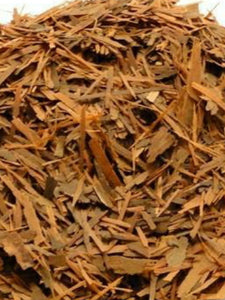 Pau d'arco
Scent'Serely Yours Health & Wellness Spa
Regular price $10.00 Sale
COMMON NAME
Standardized: pau d'arco
Other: ipe roxo, lapacho, taheebo
BOTANICAL NAME
Tabebuia impetiginosa (Mart. ex DC.) Standl.
Plant Family: Bignoniaceae 
SYNONYMS
Tabebuia avellanedae, Tabebuia heptaphylla, Tecoma impetiginosa
OVERVIEW
Pau d'arco is an herbal supplement claimed to be anti-cancer and antimicrobial, especially anti-candida. Other uses for pau d'acrco include diabetes, ulcers, stomach inflammation (gastritis), liver ailments, asthma, bronchitis, joint pain, hernias, boils and wounds.One of the best known, but least understood, herbs from the Amazon Rainforest, pau d'arco is a key ingredient in the tribal medicine chest. 
PRECAUTIONS
Specific: No known precautions.
General: We recommend that you consult with a qualified healthcare practitioner before using herbal products, particularly if you are pregnant, nursing, or on any medications.
For educational purposes only. This information has not been evaluated by the Food and Drug Administration.
This information is not intended to diagnose, treat, cure, or prevent any disease.