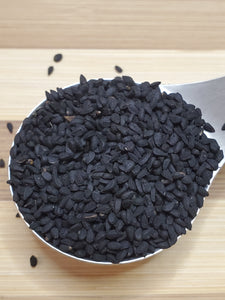 Nigella Sativa (Black Seed)
Scent'Serely Yours Health & Wellness Spa
Regular price $10.00 Sale
COMMON NAME
Standardized: Black Seed
BOTANICAL NAME
 Origin: Kolanji,
OVERVIEW
 Jammed packed antioxidants may protect against several types of chronic conditions including cancer, diabetes, heart disease and obesity. Kills of disease-causing bacteria responsible for infections. Known to Allieviate inflammation. Protects the liver, keeps blood sugar levels steady & prevents ulcers. 
*Eat the seeds raw, add to honey, water, smoothies, teas, salads & dishes, yogurt, oatmeal,etc...
What is an Antioxidant? Antioxidants are substances that neutralize harmful free radicals and prevent oxidative damage to cells. 
PRECAUTIONS
Specific: No known precautions.
General: We recommend that you consult with a qualified healthcare practitioner before using herbal products, particularly if you are pregnant, nursing, or on any medications.
*This statement has not been evaluated by the Food and Drug Administration. This product is not intended to diagnose, treat, cure, or prevent any disease. For educational purposes only.