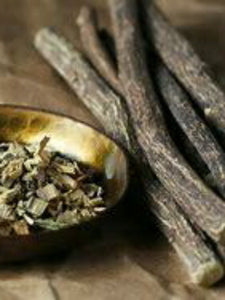 Licorice Root (Glycyrrhiza Glabra)
Scent'Serely Yours Health & Wellness Spa
Glycyrrhiza Glabra-
Licorice Root Chew-sticks (Glycyrrhiza Glabra) have anti-bacterial properties, and make your teeth white. When sucked the chew-sticks release a sweet sap which suppresses hunger [and nicotine] cravings, in addition to imparting a lasting and pleasant fragrance to the mouth. Licorice Root is a safe and effective way to help quit smoking.
WARNING: Licorice can raise blood pressure. Do not consume large amounts of it if you have high blood pressure.
The health benefit of licorice root has been used for thousands of years to treat a variety of ailments including: cough, sore throats, food poisoning, liver and stomach disorders, heartburn, leaky gut, adrenal fatigue, reducing stress, detoxifies the body, eases menstrual cramps, and so much more.
Licorice Has Been Used For Thousands Of Years To Treat Complaints Of The Gastrointestinal And Urinary Tracts. Its Soothing And Coating Action Makes It A Popular Ingredient In Many Sore Throat Remedies. And Its Anti Inflammatory Properties Have Been Said To Calm The Symptoms Of Asthma, Bronchitis, Heartburn And Indigestion.