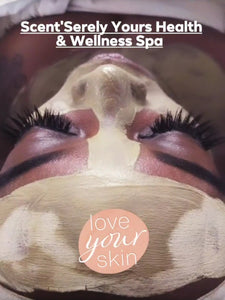 Refresher Facial
Scent'Serely Yours Health & Wellness Spa
Regular price $65.00 $25.00 Sale
During the Refresher Facial, one of our expert skin therapists will cleanse your face, lightly exfoliate your skin to encourage the regeneration of new skin cells, apply a soothing mask, and gently massage your face to increase the flow of oxygen.
You will feel relaxed and your skin will look refreshed and rejuvenated!
WHY THE EXPRESS FACIAL MAY BE PERFECT FOR YOU
This facial treatment is a true spa essential for anyone in desperate need of skincare love but short on the time needed for a full facial treatment.
Many travelers visiting Scent'Serely Yours find the Basic Refresher facial  treatment to be the perfect for them. We also offer many other spa services & packages that help rejuvenate dehydrated skin & brings a glow to your complexion.
A FULL RANGE OF SPECIALIZED FACIALS TAILORED TO YOUR NEEDS
In addition to this short and sweet treatment, we also offer a range of from facials for those with sensitive, acne, mature,  oily & combination skin to cleanse, treat, lift, revitalize your skin and so much more.
(To ensure you receive your entire service time-Please arrive 15-20mins prior to your appointment for consultation & paperwork)
CANCELLATIONS 
Cancellations made within 7- 10 days will incur a 10% fee with a 90% credit applied to the service 
Cancellations made within 3 - 6 days will incur a 25% fee with a

 

75% credit applied to the service 
Cancellations made within 48 hours to the event will incur a 35% with 65% credit applied to the service 
Cancellation made day of you will incur 50% fee 

with 50% credit applied to the service 

NO CALL/SHOW subject  up to 100% of service being forfeited

NO REFUNDS, NO EXCHANGES, NO EXCEPTIONS
 *Please be advised If/when you are offered a discount code for your rebooking you must use it within the time frame given up to 30days or you lose your credit towards your service.