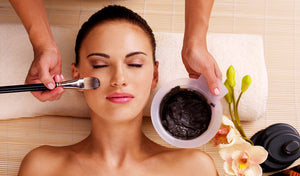 Deep Cleansing Facial
Scent'Serely Yours Health & Wellness Spa
Regular price $130.00 $25.00 Sale
A favorite amongst those with breakout prone skin, our Cleansing Facial is designed to deep clean, purify, and tighten the skin's pores while accelerating the skin's natural healing process. The end result leaves you with skin that is cleaner, healthier, free of imperfections, and rebalanced.
This deep cleansing facial includes steam/towels and extractions ( if needed) in combination with individually-customized mask & serums.
WHY THE Deep Cleansing FACIAL MAY BE PERFECT FOR YOU
Having and maintaining clear, vibrant, and healthy skin is something everyone wants. That's why individuals of all ages and skin types will see benefits from our signature Deep Cleansing Facial.
Our expert skin therapists will demonstrate an innovative way for you to have your pores fully cleansed and tightened, or they can provide tips for how to enhance your regular skin care routine.
A FULL RANGE OF SPECIALIZED FACIALS TAILORED TO YOUR NEEDS
In addition to this short and sweet treatment, we also offer a range of from facials for those with sensitive, acne, mature,  oily & combination skin to cleanse, treat, lift, revitalize your skin and so much more.
SCHEDULE YOUR DEEP CLEANSING FACIAL TODAY
(To ensure you receive your entire service time-Please arrive 15-20mins prior to your appointment for consultation & paperwork)
CANCELLATIONS 
Cancellations made within 7- 10 days will incur a 10% fee with a 90% credit applied to the service 
Cancellations made within 3 - 6 days will incur a 25% fee with a

 

75% credit applied to the service 
Cancellations made within 48 hours to the event will incur a 35% with 65% credit applied to the service 
Cancellation made day of you will incur 50% fee 

with 50% credit applied to the service 

NO CALL/SHOW subject  up to 100% of service being forfeited

NO REFUNDS, NO EXCHANGES, NO EXCEPTIONS
 *Please be advised If/when you are offered a discount code for your rebooking you must use it within the time frame given up to 30days or you lose your credit towards your service.