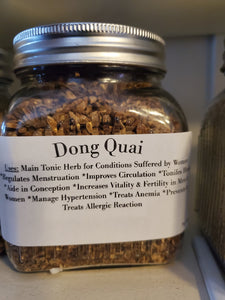 Dong Quai
Scent'Serely Yours Health & Wellness Spa
Regular price $10.00 Sale
COMMON NAME
Standardized: Dong Quai, Chinese Angelica, Dang Gui
BOTANICAL NAME: Angelica sinensis
PLANT FAMILY: Apiaceae
OVERVIEW
Dong Quai is a main tonic herb for conditions suffered by women.  Helping to regulate menstruation, improves circulation & tonify the blood.
 Key Actions:
Tonic
Anti-inflammatory 
Antispasmodic 
Thins Blood
Promotes Menstrual Flow
Traditional & Current Uses:
Gynecology: Helps to regulate uterine contractions (soothes period pain), Uterine Tonic & aides in fertility. *(if  menstrual  flow is heavy reach for Nettle as a tonic)
Circulation:  Warming herb normalizes heart function & shown to thin blood. Improves Circulation  to the abdomen,  hands & feet. Strengthens the digestive system & great treatment for abscess & boils.
Blood Tonic: Taken for blood deficiencies conditions; anemia; palpation & lowered vitality.
Other uses: Aides in conception
Preparation & Uses:

Tonic:  Wine to improve Vitality drink 3/4 cup daily
Tincture: For period pain 1/2tsp with water up to 4xs per day
Infusion: Poor Circulation 1 tsp with 3/4c water drink 3/4-1 1/4c per day
Decoction:  Anemia take 3/4cuo 2-3xs per day
PRECAUTIONS
Specific:
Do not take during PREGNANCY or while breastfeeding 
*Should not be used for heavy menstrual bleeding, bleeding disorders or diarrhea. 
 *May interact  with anticoagulant medications 
 
General: We recommend that you consult with a qualified healthcare practitioner before using herbal products, particularly if you are pregnant, nursing, or on any medications.
*This statement has not been evaluated by the Food and Drug Administration. This product is not intended to diagnose, treat, cure, or prevent any disease. For educational purposes only.