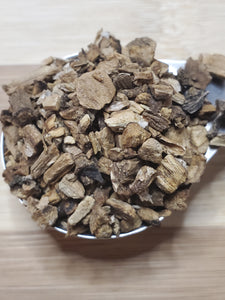 Burdock Root
Scent'Serely Yours Health & Wellness Spa
Regular price $10.00 Sale
ORIGIN: USA
COMMON NAME
Standardized: Burdock
BOTANICAL NAME: 
Arctium lappa L.1
OTHER: great burdock, gobo, goboshi
 PLANT FAMILY: Asteraceae
OVERVIEW
Burdock has been an important botanical in Western folk herbalism and traditional Chinese medicine for thousands of years, primarily valued for its cleansing and skin smoothing properties. The entire plant is edible and is a popular vegetable in Asia, particularly in Japan. More recently, burdock has been an ingredient in hair tonics and in cosmetics for mature skin.
PRECAUTIONS
Specific: No known precautions.
General: We recommend that you consult with a qualified healthcare practitioner before using herbal products, particularly if you are pregnant, nursing, or on any medications.
*This statement has not been evaluated by the Food and Drug Administration. This product is not intended to diagnose, treat, cure, or prevent any disease. For educational purposes only.